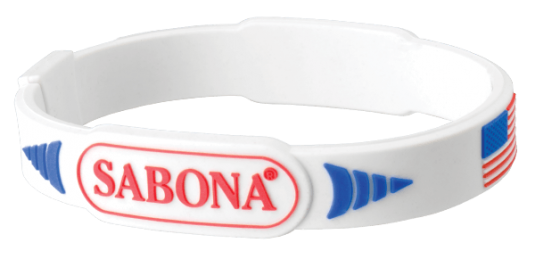 Get a FREE Patriotic Pro-Magnetic Sport Wristband
with every purchase $29.99 more more through 7/19/20 while supplies last!
Wristband Size must be indicated in the Order Notes section at checkout. Sizes avaiable are S/M (7.0), L (7.5) and XL (8.0).
Please note that you will not see the free gift(s) will not appear on your order during the checkout process. Your free gift will be shipped with the order and noted on the invoice you will receive with your shipment.

Brown Leather Gem Duet Magnetic Bracelet
Sale!
Out of Stock
This product is not currently available for purchase.
Sabona's Leather Collection showcases distinctive bracelets with a rugged elegance for both men and women. These unique new designs combine classic Sabona stainless steel links with quality USA oil-tanned leathers.
The stitching on the brown leather provides style as well as strength. Elegant cubic zirconia gemstones add sparkle for the ladies' bracelets. The duet design features 18K gold plated accents.
Stainless links contain the 1200 gauss samarium cobalt magnets which have defined Sabona's bracelets for decades. Sabona chooses Samarium Cobalt magnets for long term durability and rust resistant qualities.
The polished stainless belt clasp fits a range of wrists, with adjustable sizing spaces in the leather band, meaning one size will fit almost all adults.
Your Sabona magnetic bracelet comes packaged in a presentable black jewel box.
---