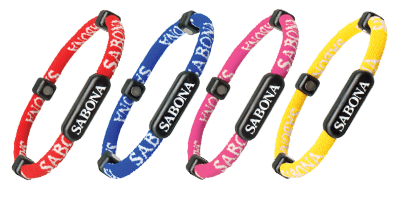 Get a FREE Athletic Bracelet
with each Collegiate Ring, Watch Band, or Wristband through August 31.
Promotion valid through August 31st only while supplies last. Up to three free bracelets per order. Available in Blue, Red, Pink, and Yellow.
Please note that you will not see the free wristband(s) per bracelet on your order during the checkout process.
You must indicate size and color on the ORDER NOTES section of checkout.
Your free gift(s) will be shipped with the order and noted on the invoice you will receive with your shipment.
Professional Steel Twist Magnetic Wristband - Gold Ends
Sale!
This bracelet is a comfortable alternative style for magnetic bracelets. The stainless steel twisted wire is accented by the gold plated end pieces. Each end piece contains a 1200 gauss Samarium Cobalt magnet!
To get the best fit, subtract 1/2" to 3/4" from your wrist size to determine the size you need. Wristbands are to be snug, but not tight. If you are in between sizes, it works better for the band to be smaller rather than larger.
To clean your Sabona bracelet, use a good jewelry cleaning cloth to keep the outside polished and the inside clean.
Your Sabona magnetic bracelet comes packaged in a presentable black jewel box.
---