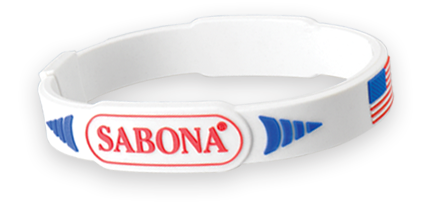 Get a FREE Patriotic Pro Mag Sport Wristband with Every Bracelet or Wristband through July 31.
Promotion valid through July 31st only while supplies last. Up to three free wristbands per order.
Please note that you will not see the free wristband(s) per bracelet on your order during the checkout process.
Your free gift will be shipped with the order and noted on the invoice you will receive with your shipment.
Copper Thread Back Support
Sabona Support Garments add support and warmth to muscles and joint areas. The supports include Thermal Copper Insulation (TCI) which plays an important part in the recovery process. TCI with added Sabona copper thread is woven into a special blend of fabrics. The copper in the TCI conducts natural body heat, and as the body warms the copper, it in turn retains the heat generated and stores it within the fabric, promoting a quicker recovery.
The Sabona Back Support Garment is a double action belt - two belts in one. The first belt gives support and uses hook and loop fastening to ensure the belt is a comfortable fit, whilst the second belt can be tightened, according to the wearers needs, to give extra support. The ribs woven into the back panel give additional support and strength to the back area, encouraging correct posture. Finally, The TCi will keep the injured area warm, speeding up the recovery process. As the wearer gains strength in the afflicted area, the belt can be gradually loosened.
The Back support is available in the following sizes: S - 23-29"; M - 30-36"; L - 37-43"; XL - 44-50".
---