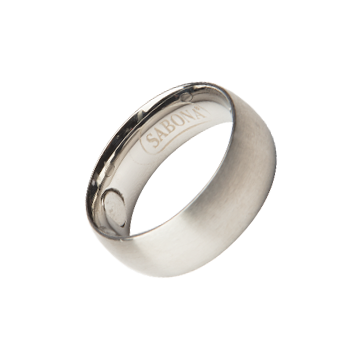 Get a FREE Stainless Steel Magnetic Ring with the purchase $49.99 or more thru March 31st.
Promotion valid through Mar 31st only while supplies last.
You must indicate in the order notes what size (6.0 - 13.5) you would like to receive.
Please note that you will not see the free Ring per on your order during the checkout process.
Your free gift will be shipped with the order and noted on the invoice you will receive with your shipment.
Two-Tone My Conditions Medical ID Bracelet
Sabona Medical ID Bracelets combine the function of alerting emergency personnel to a medical condition such as diabetes with style trends the consumer will wear.
My Conditions™ Medical ID feature:
Caduceus symbol prominently displayed on link
Alerts emergency personnel of up to four (4) medical conditions
Includes 60 conditions pre-printed on durable labels​
FREE wallet card
This two-tone My Conditions™ Medical ID bracelet bears a subtle, yet functional design, with a caduceus symbol to alert emergency care providers of a person's medical condition.
These 60 condition labels are included in each package
Alzheimer's • Anemia • Anticoagulant • Anxiety Disorder • Arrythmia • Arthritis • Asthma • Austism Spectrum • Bariatric Surgery • Bi-Polar Disorder • Cancer Patient • Celiac Disease • Cerebral Palsy • Chemo Patient • Congestive Heart Failure • COPD • Coumadin • Crohn's Disease • Dementia • Diabetes 1 • Diabetes 2 • Dialysis Patient • Emphysema • Epilepsy • Food Allergy • Hearing Impaired • Heart Disease
Hemophilia • Hepatitis B • Hepatitis C • High Blood Pressure • HIV/AIDS • Insect Allergy • Kidney Disorder • Low Blood Pressure • Lyme Disease • MAOI Drugs • Memory Loss • Mentally Impaired • Multiple Medications • Multiple Sclerosis • Muscular Dystrophy • Narcolepsy • Neuropathy • Organ Transplant • Pacemaker • Parkinson's Disease • Peanut Allergy • Penicillin Allergy • PTSD • Radiation Patient
Rare Blood Type • See Wallet Card • Seizure Disorder • Shellfish Allergy
Sickle-Cell Anemia • Stroke Risk • Thyroid Disorder • Tourette Syndrome • Visually Impaired
---
Not the right Med ID for you? Try:
Ladies' Magnetic Med ID Bracelet - Diabetic
Ladies' Magnetic Med ID Bracelet - Custom Engraved
---